Exhibition by SSBA Member Marianne Hazlewood – Fine hair, Soft Nibs, depictions from a shady bed
An exhibition of botanical Watercolour paintings, Japanese ink paste illustrations and screen prints. All works illustrated at: www.openeyegallery.co.uk.
6th – 24th October, Tuesday to Friday 11am to 5pm, Sat 11am to 4pm.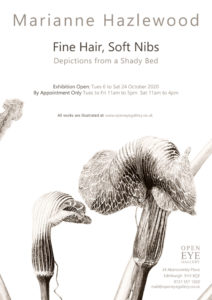 Visits are by appointment only, please contact the Gallery before arrival to book a slot.
Open Eye Gallery, 34 Abercromby Place, Edinburgh EH3 6QE. Phone: 0131 557 1020. Email: mail@openeyegallery.co.uk.
In accordance with Government guidelines all social distancing measures will be in place with hand sanitiser at the door upon arrival. For the safety of all the gallery respectfully asks all visitors to wear face masks.
This exhibition is also accessible online at: www.openeyegallery.co.uk.