Rona McDowall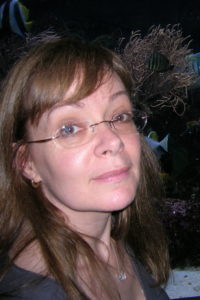 After a Higher in Art at school, which I loved, I always had good intentions to get back to drawing, but work and other hobbies always came first. I've had a garden on and off over the years and now have the time, and a nice sized garden, in which I can grow and learn.
My career of 30 years was in IT, managing software services programmes for clients across Europe and the Far East, having lived in Singapore for a few years too.
Since realising I didn't need to work a corporate job 5 years ago I'm doing more of the things I enjoy – all kinds of crafts, including knitting, crochet, embroidery, dressmaking and pottery. I've been researching my family history for many years. Most of all, I enjoy my (overly mature) garden. I fell for my Corstorphine home and garden after seeing it in it's glory mid-June 2012, just as I was contemplating coming home from Singapore.
I'm Secretary of the Friends of Saughton Park, arrange and participate in all our events in the park and am on the council of the Caley (Royal Caledonian Horticultural Society) with responsibility for their annual programme of events, both trips and the winter lecture series.
With the encouragement of Anne Carlaw and the kindness of all the members of the SSBA I'm getting back into drawing, and learning to paint in watercolour. I've always been drawn to detail, so botanical art seems perfect for me. Now to get some formal training and keep practising.